Amazon Voyage 2013 with International Expeditions
November 15 - 24, 2013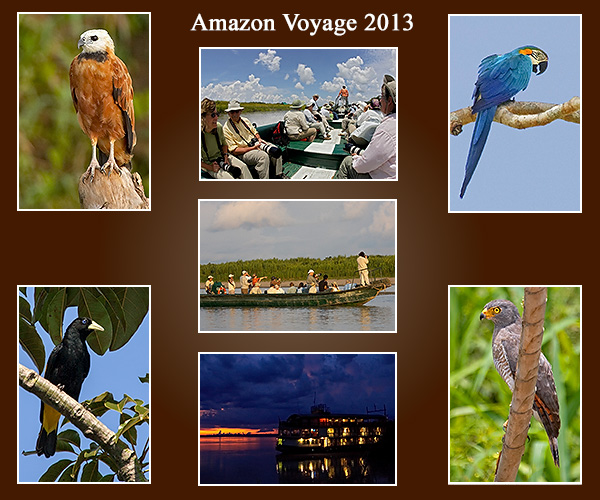 I have enjoyed a great relationship with International Expeditions for the last several years, and I am excited to announce that I will be the Photography guide with them on their Amazon Voyage in November, 2013. I have previously led workshops with them to the Pantanal in Brazil in November, 2008, the Amazon Voyage in 2009, and a Wildlife Safari trip to Tanzania in 2012. I have been consistently impressed with their professionalism and the lengths to which they go to provide the best experience possible for international tourism travelers!
In addition to the unique experience of seeing and traveling on the Amazon River, they are very proud to offer this trip using their brand-new, custom-designed Amazon Riverboat, La Estrella Amazonica. You can read all about this spacious and comfortable ship at IE's website here and here.
The following is taken from International Expedition's website, and will give you some feel for the types of tours they provide:
Extraordinary Journeys...The IE Way
When you travel with International Expeditions, you travel with a company that not only shows you some of the most remarkable places in the world — but does so in a way that's as enriching as we can make it. Our journeys, planned and continuously refined over more than two decades, include many elements that would be next to impossible to do otherwise. In the rainforest, for example, we'll take you further into the reserves than anyone else, so that you have the chance for some exceptional sightings. And as you learn, you'll also have a lot of fun and laughter — the joy that comes from making new discoveries in the company of friends who share in the excitement. Our journeys are companionable adventures.

Award-Winning Experiences
International Expeditions is proud to be included on Travel + Leisure magazine's list of "World's Best" tour operators and safari outfitters for the fourth consecutive year (2004, 2005, 2006 & 2007). And recently Travel + Leisure rated our 10-day Galapagos cruise aboard the M/V Evolution as one of the "50 most romantic places on Earth." Our Amazon River tour was recognized in National Geographic Adventure Magazine as one of the "25 Greatest Adventures in the World," and by renowned writer Patricia Schultz as one of the 1000 Places To See Before You Die. These and other honors are a testament to our mission of providing guests with the very best experiences we possibly can, and to the passion and dedication that our staff members bring to their work.
The following is taken from IE's website, describing some of the specifics of the Amazon Voyage:
Amazon Voyage
Its surroundings covering nearly half of the territory of Peru, the Amazon is the mightiest river in the world, flanked by vast stretches of pristine rainforest. International Expeditions has been exploring these waters for all of our 33 years of existence, and we continue to be amazed at all we find on our 10-day riverboat expedition.

The rainforest canopy shelters the richest and most diverse ecosystem on Earth, making it the perfect place for anyone who cares about nature. Beginning in Iquitos, the world's furthest inland seaport, we travel upstream along the Amazon's tributaries, going deep into the Pacaya-Samiria Reserve — the largest wetland reserve in the world. On our exclusive itinerary, you go deeper into the reserve — by far — than on any other Amazon journey, and as a result, you see much more, pure and simple. We'll look for the Amazon's myriad forms of wildlife — monkeys, birds, sloths and other mammals, pink and gray dolphins and many more. You might even spot the endangered giant otter or the rare harpy eagle.

Expert local naturalist guides will accompany you. Many have worked with us for more than a decade. They are the friendliest, most knowledgeable people you'll ever meet, with an uncanny ability to find wildlife and the desire to share their knowledge. An expedition leader will also accompany you, making sure you are well looked after.

We hope you'll join us on "the greatest voyage in natural history."
If you're interested in IE's famous Amazon Voyage, please email me, or get in touch with the good people at International Expeditions, using their contact page here. You can also call them directly at (800) 633-4734, or email Sarah Meffert. Finally, you can request one of their beautiful catalogues here. Here are some additional links for information about IE and the Amazon Voyage:
About International Expeditions
Detailed Daily Itinerary for the 2013 Amazon Voyage Photography Workshop with International Expeditions
Return to DLC Photography Home Page