Costa Rica

Photography Workshop
April 27 - May 7, 2012
Donald L. Cohen, MD - DLC Photography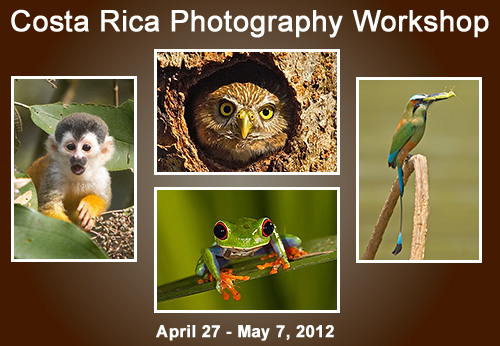 I will be returning to Costa Rica in 2012, and am excited about the places we'll be visiting. One of the most biodiverse locations on the planet, Costa Rica offers unique opportunities for the nature photographer to see and shoot a wide variety of plant and animal species, as well as the incredibly gorgeous landscape of a number of ecosystems. Waiting there are 4 species of monkeys (white-faced capuchins, howlers, spider and squirrel monkeys), 375 species of birds (including scarlet macaws, toucans, hawks, mot-mots, quetzal, many species of hummingbirds, etc.), 116 species of amphibians and reptiles (including the famous red-eyed tree frog and poison arrow frogs), and 139 mammal species (including sloths, anteaters, tapirs and jaguars), not to mention the spectacular butterflies, orchids and other flowers, and an extensive array of flora of every type.
First we'll be heading to the Caribbean Coast, staying at the Evergreen Lodge adjacent to the Tortuguero National Park. We'll be exploring the river and canals that comprise this park on a boat reserved for our exclusive use. We've seen and photographed an amazing array of wildlife on these boat tours in the past, covering many kilometers of the park with ease. In addition, we'll be able to enjoy the nature beauty of the grounds of this Costa Rican paradise, be awoken by the nearby Howler Monkeys, and feast on the local cuisine.
After spending 2 nights at Tortuguero, we journey to the famous Rancho Naturalista, where we will spend 3 nights. Rancho Naturalista is a birders paradise with an extensive trail system covering their 125 acre ranch which lies in premontane rainforest in the Caribbean zone at 3000 feet elevation. Over 340 species of birds have been recorded in their private reserve.
Our next destination is the central Pacific coast, where we'll spend the next 3 nights at El Paso De Las Lapas, a cozy Eco Boutique Hotel. I was so pleased with our experience there in 2011, that I was anxious to return and use this as the base of operations for our time on the Pacific coast. We will be visiting the Solimar Ranch, which was amazingly productive for wildlife when we spend just a few hours there in 2011. In addition, we'll be doing a boat ride on the nearby Rio Bebedero, likely seeing huge Crocodiles, as well as troops of monkeys and numerous bird species. We'll travel through Tropical Dry Forest, Mangroves and Wetlands, seeing the unique flora and fauna in each of these locations. And lastly, we'll do a boat tour on the Tarcoles River which has never disappointed me, and is one of my favorite photographic destinations in Costa Rica.
Leaving the Pacific coast, we'll make a stop at the world-famous La Paz Waterfall Gardens, which contains one of the more spectacular aviaries I've ever seen, along with feeders which attract a diverse assortment of hummingbird species. And this is in addition to the Waterfalls this location is deservedly known for.
Please see the Daily Itinerary for details. As I have learned in my previous trips to Costa Rica, "getting there is half the fun," with an abundance of things to see while getting from one stopping point to another. With our own bus, driver and guide, we can stop at any time to get a closer look, take pictures, and truly experience all this country has to offer. The itinerary has been specifically designed to make sure any non-photographer spouses, friends or family will have the time of their lives, as we travel from one beautiful landscape to another.
The group will be small (limited to 10 people) to allow ample opportunity for one-on-one instruction. In addition to teaching in the field, we'll be having multiple Workshop sessions back at the hotels, covering a wide variety of topics in photography, digital imaging, etc. Once the group's participants are identified, a Questionnaire will be sent to each one, to assess everyone's experience, areas of interest, and expectations. In this way, the Workshop Agenda can be tailored to meet the specific needs of our group. The Workshop sessions will take place at the end of the day's activities, and the concepts and techniques learned can then be applied in the following day's shooting. Photographers of all levels of experience are welcome, from rank amateur to pro.
---
Additional information and details can be found here:
Biography of your Workshop Leader, Donald L. Cohen, MD
YouTube Video of Images from past Costa Rica Trips
---
Cost:
The final cost per person will depend on the number of participants:
Number of Participants

6

7

8

9

10

Cost/Person (Double Occupancy)

$3730

$3510

$3350

$

3215

$3115
The Single Supplement cost is $630.
There are substantial fixed costs (private bus, private boat tours, full-time nature guide and bus driver, etc.) that are the same, regardless of the number in the group, which is why the trip costs vary according to the group size. Plus, even at 10, this is still considered a "small group" (many Costa Rica tours will have group sizes from 15 to 30 or more). We need a minimum of 6 participants to give this trip the final "green light" so please don't make your airline reservations until this trip receives the final confirmation, or if you do, make sure you have Travel Insurance which covers you in the unlikely event of trip cancellation.
As discussed above, this price includes virtually everything, including all meals once the tour has begun, during your stay in Costa Rica. Items not included would be your own airfare into and out of Costa Rica, the $26.00/person Costa Rica Departure Tax which is paid at the airport, Alcoholic beverages, extras in hotels (i.e. laundry, phone calls, room service), gratuities, etc.
Travel Insurance, including trip cancellation, is highly recommended.
A $500/person deposit will secure a spot on the trip, with the final payment due January 1, 2012. The deposit is non-refundable, but will be returned if the trip is cancelled for whatever reason. Please contact John Aspinall of Costa Rica Connections, who will be handling these arrangements.
---
I have created a small gallery of images taken by Participants in previous Costa Rica Photo Safari's: click here.
---
Comments from past Photo Safari Participants:
"I'd like to thank you once again for the terrific trip. It was a photographic experience that I've never had before. I'm sure that I'm a better photographer (not tough to do) than I was before the trip. I'm looking at my camera differently and will probably use it in a more advantageous manner in the future."
"My wife and I had a great trip and enjoyed being part of the group. We had an interesting mix of people, and the fact that everyone got along made the trip a lot of fun. I learned a lot about shooting wildlife, both from our after-dinner discussions and by observing the various techniques members of our group used in the field. Very profitable."
"My photo adventure to Costa Rica was an opportunity of a lifetime at an affordable price. Don Cohen led the expedition to the Osa Peninsula where Crocodile Bay Lodge hosted us in first class style. I would have been happy to see a few exotic birds and animals, but what I saw far exceeded my expectations. You name it, it is there - from every imaginable insect, butterflies in abundance, crocodiles, reptiles and birds. The rainforest and waterfalls and landscape were a photographers dream. The plant life was spectacular and an afternoon kayaking through the Mangroves was breathtaking.
Each day Don went over digital photography basics and techniques to help us understand how to capture even better images. The Lodge made sure that no one went hungry or thirsty and our tour guide couldn't have been sharper. All in all, the value for the experience was unbeatable."
"I still think about Costa Rica and wanted you to know how I thoroughly enjoyed meeting you and going on the trip."
"Some of the best pictures I have taken, a couple more trips like this and I could call myself a photographer!"
"This was a fantastic departure from the usual passive tropic resort experience. Interaction with other participants added unexpectedly and greatly to the experience. The guides were very in-tune with our naturalist perspective and very knowledgeable. Don made the evening sessions very educational so it was like a seminar and field trip combined."
"This portion of paradise had superior accommodations and the staff was always helpful. The local guides were knowledgeable and energetic and Don was a superior photographer and teacher. His helpful ideas tendered before, during and after the safari will always be appreciated and the knowledge we brought home was fresh new and exciting. Thanks for a great trip."
---
For all inquiries and questions, my contact information is
:
dlc@dlcphoto.com
704-664-6077 - phone
888-452-8026

- fax
To make a reservation, email John Aspinall at:
jaspinall@crconnect.com
---
To see a wide variety of photographs taken during my previous trips to Costa Rica, please visit the following Galleries on my website: