Special Announcement: 'Return to Tanzania' Photo Safari, with International Expeditions

February 16 - 27, 2014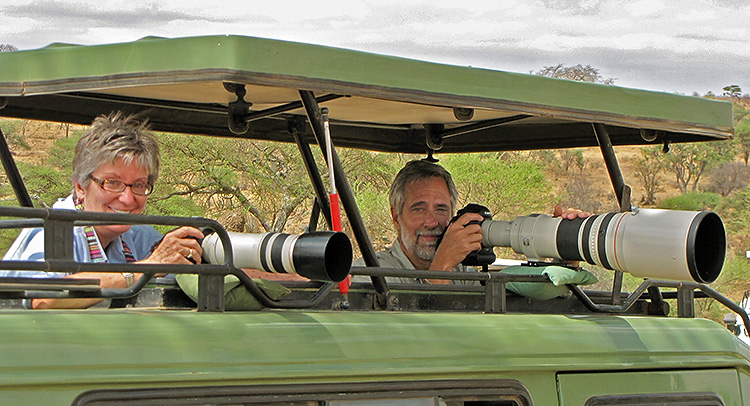 After having an incredibly enjoyable and productive Photo Safari to Tanzania in the Fall of 2012, I started planning a return trip almost as soon as we got back. Working with the excellent Guides we had on that trip, we have chosen an ideal time of year to return, to not only enjoy the Wildlife Migration, but also see the Wildebeests when they're calving. In addition, we'll be spending time on actual hunts with both the Datoga and Hadzabe tribes, providing a fascinating cultural experience along with unique photographic opportunities.
As with last year's trip, this one is being done in conjunction with International Expeditions, one of the world's leaders in International Ecotourism. I have conducted workshops with them to Brazil, the Amazon River, and now Tanzania, and their professionalism and expertise has been indispensable in making these trips enjoyable, worry-free, and tremendously productive.
Discover the timeless adventure of Africa as you travel on our 12-day Tanzania Photo Safari - the perfect way to see the continent's most abundant wildlife. Find the "Big Five" - lions, elephants, buffalos, rhino and leopards - that an East African photo safari is known for, as well as wildebeest, zebra, hartebeest, hippo and much more.
To maximize the Photographic opportunities, this will be a small group trip, as all of my safaris are. We will be using Safari vehicles that have 3 rows for the passengers, and we will have no more than 3 photographers in each vehicle. This way, each photographer has their own row to maximize space for their equipment, ability to maneuver and shoot in any direction, etc.
You can see a selection of Photographs from last year's Tanzania trip here. The abundance and diversity of wildlife was spectacular: huge numbers of Wildebeests, Cape Buffalo, Giraffes, Elephants, Zebras, numerous large prides of Lions, along with several Rhinos, Cheetahs and Leopards. As if this weren't enough, we saw and photographed the gorgeous Lilac-breasted Rollers, various species of Bee-Eaters, Lovebirds, Hornbills, Weavers, Cranes, Raptors, and other bird species too numerous to list. And then there are the various Monkeys, Baboons, Lizards, Warthogs, Antelope species, Hyenas, Jackals, Hippos, etc. The list goes on and on.
This will be an ideal way to see, experience, and photograph the beauty and wonder that is Tanzania.
Please email me with any questions you might have, and to reserve spaces for the trip.
We'll be limiting the group to 10 participants, so contact me as soon as you can to make sure there will be a place for you

.
We'll be staying at top-rated facilities throughout the trip, providing 'creature comforts' that make expeditions like this much more enjoyable. This is where International Expeditions really shines: providing unique eco-adventures all around the world, with their experienced staff providing tremendous support, and making the trip both enjoyable and comfortable. For more information about IE's history and track record in Ecotourism, please see these pages:
The trip will take place Feb. 16 through Feb. 27, 2014. For a summary of the places we'll be visiting and the things we'll be doing, please go to the following link:
And please go here to see International Expedition's webpage concerning this trip, which shows the pricing and other information:
International Expedition's Tanzania Photo Safari, 2014